Understanding the Basics: Can Wix Host My Domain?
Have you ever found yourself in the confusing web of domain hosting? Wondering if Wix, the popular website builder, can be your one-stop-shop for all things online presence? Look no further! In today's blog post, we'll dive deep into understanding the basics and unravel the mystery: Can Wix host my domain?
Whether you're a savvy internet user or just starting to explore the online world, this article will equip you with knowledge and clarity so that you can make an informed decision. So grab a cup of coffee and get ready to unravel the secrets behind hosting your domain with Wix!
Table of Contents
What is a domain?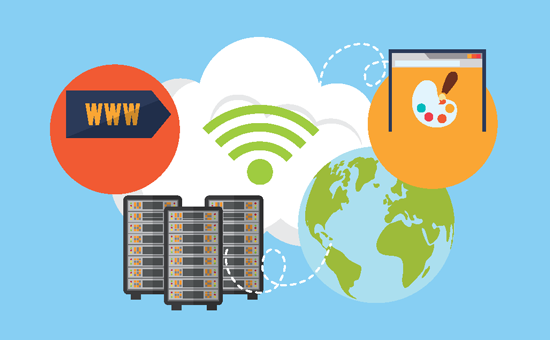 When you create a website with Wix, you can either use a Wix-provided domain or connect your domain. Your Wix-provided domain will have the format yourname.wixsite.com/sitename. For example, if your site's name is "My Restaurant," your Wix-provided domain would be myrestaurant.wixsite.com/myrestaurant. You can also choose to use your own personal or business domain name with your Wix site. For example, you could use www.myrestaurant.com as your website address.
What is hosting and why do you need it?
Web hosting is a service that allows organizations and individuals to post a website or web page onto the Internet. A web host, or web hosting service provider, is a business that provides the technologies and services needed for the website or webpage to be viewed on the Internet. Websites are hosted, or stored, on special computers called servers.
When Internet users want to view your website, all they need to do is type your website address or domain into their browser. Their computer will then connect to your server and your webpages will be delivered to them through the browser.
Most people don't have their servers, so they need to rent space from a web hosting company. When you set up a website with Wix, we store your site on our servers and assign it a unique DNS address. DNS stands for Domain Name System and it's like the phone book of the internet – it translates human-friendly domain names into machine-friendly IP addresses. So when someone types in www.yourdomainname.com, they are directed to the IP address where your site is located.
Can Wix host my domain?
If you have a domain name from another provider and want to use it with your Wix website, you can connect it to your Wix site. You'll need to update your domain's DNS settings and point them to Wix. This will redirect traffic from your domain to your Wix website. You can learn more about pointing your domain to Wix here.
Although you can connect your domain to Wix, Wix does not offer domain hosting services. They only provide website building and hosting services. You will still need to register and renew your domain name with the registrar or provider you've chosen.
How to set up Wix hosting for your domain?
If you've already purchased a domain from a third-party provider, you can connect it to your Wix account and use it as your website's address. To do this, you'll need to set up Wix hosting for your domain.
Here's how:
Log in to your Wix account and go to the Domains page.
Click Connect Domain.
Enter your domain name in the box and click Continue.
Select Set Up Wix Hosting for This Domain and click Continue.
Follow the instructions on the screen to finish connecting your domain and setting up Wix hosting for it.
Once you've connected your domain, you'll be able to start building your website with Wix. Good luck!
Benefits of using Wix hosting services
There are many benefits of using Wix hosting services for your website. For starters, Wix is a very user-friendly platform that makes it easy to create and manage your website. Additionally, Wix provides reliable hosting services that keep your website up and running smoothly. Wix offers affordable web hosting plans that fit within most budgets.
Using Wix to host your domain can be a great choice for those looking for an easy-to-use platform with reliable hosting services. Plus, the affordability of Wix's web hosting plans makes them a great option for those on a tight budget.
Overall, Wix is an excellent choice for anyone looking to build a website or blog without breaking the bank. It offers reliable hosting services at a reasonable cost and its user-friendly interface makes creating and maintaining a website effortless.
Tips for effectively managing your domain on Wix
Assuming you have already purchased a domain from a provider such as Google Domains or GoDaddy, you can manage your domain directly on Wix!
To connect your domain to your Wix site:
Sign in to your Wix account.
Click the avatar icon in the top right-hand corner and select 'Manage Domain'.
On the Connect Domain page, enter your domain name in the field provided and click 'Continue'.
Select 'I Already Have a Domain' and continue to the next screen.
Choose which site you would like to connect your domain to and click 'Connect Domain'.
Configure your DNS settings according to the instructions given on the screen, then click 'Finish & Activate'.
That's it! Now you can start using your custom domain with your Wix website! If you run into any problems along the way, our support team will be happy to help out.
Alternatives to Wix for domain hosting
There are a few alternatives to Wix for domain hosting. One option is to use a Domain Name Registrar such as GoDaddy, 1&1 IONOS, or Hover. These registrars will allow you to purchase and manage your domain name. Once you have purchased your domain name, you will need to set up DNS (Domain Name System) records with the registrar to point your domain name to your web hosting account.
Another option for domain hosting is to use a web hosting service that offers domain management such as Bluehost, SiteGround, or InMotion Hosting. With these services, you can purchase and manage your domain name within your web hosting account. These web hosts will also provide DNS management for you, so you don't need to set up DNS records with a Domain Name Registrar.
If you're looking for a free alternative to Wix for domain hosting, you can use the GitHub Pages service. GitHub Pages allows you to host a website for free using static HTML files that are stored in a GitHub repository. You can point a custom domain name to your GitHub Pages website using DNS records. However, keep in mind that GitHub Pages does not offer any eCommerce features as Wix does.
Conclusion
In conclusion, Wix can host your domain for you once you purchase a custom domain from them. Once that is done, the process of setting up your website is quite straightforward and they provide plenty of resources to help make it as easy as possible. All in all, Wix has everything that you need to get started on creating an attractive and functional website without having to worry about hosting or other technical headaches. So get out there and start creating today!